I have always been drawn to Progressive Rock bands, as much as I wouldn't think I would. I mean, come on, some of the most famous bands are pretty out there. Bands of note include YES, Jethro Tull and Deep Purple.
What I like about all of these bands, and Progressive Rock in general, is that they tend to push music outside what is comfortable and popular. I love it when a band plays something that leaves me with a "what the heck was that?" sound in my ears. Because of this attraction, I was almost immediately drawn to Porcupine Tree when their CD appeared on my desk when I was working at Ticketmaster early in the 2000s. We regularly received boxes full of cds that promoters wanted us to check out (mostly when I was working with LiveDaily). I saw the cover for
In Absentia
and was immediately drawn to it. Not because I was looking for a new prog-rock band to follow but mostly because it looked like a metal album cover... so I nabbed it.
After putting the album in, I was initially taken back and disappointed that I didn't have in my grasp the next "unknown" metal band that I could share with all my friends. I eased up after a few listens and was dumbfounded in how I could categorize the album. I couldn't think of any other band that sounded anything like this new find.
That was almost 10 years ago now and I am still regularly going back to this band to satisfy my musical cravings. They blend all kinds of different rock into a stew of greatness. Some metal, some orchestra, some harmony and a few other styles mix together to create this super-group.
Over the years I have turned a number of folks into Porcupine Tree fans. How about you, web traveler? You up for a wild ride? Check out some of the tracks in the player to the right or explore one of the many links on this page to find out more.
Enjoy!!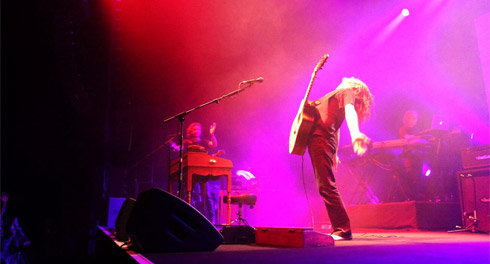 ---

FG, yes. This section is a "work-in-progress", so bands that are in my headphones the most at any given time get the spotlight. Certainly, if I were to highlight my favorite bands of all time, Floyd would be at the top of the list. Man, I have a lot more to do on this site, don't I?
---
Freefall Girl
03/15/10

Really?? Porcupine gets a feature before Pink Floyd??
---
MusicFan
01/15/10

Hrmmmm... weird name. Never heard of these guys. Will have to check them out and get back to you. Nice write-up though.
---